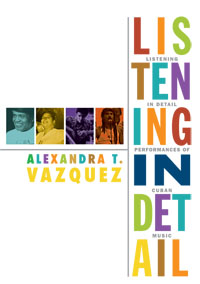 Listening in Detail: Performances of Cuban Music
by Alexandra T. Vazquez
Alexandra T. Vazquez's book is an outstanding example of how to engage with the difficult, uncontained, and uncontainable histories of performances by attending to the disruptive, racialized, engendered, and fugitive components of the detail. Beginning with an 'ethical and intellectual obligation to the question: what do musicians sound like' (12), Vazquez develops a methodology of how to listen and respond to those aspects of performance that 'remain vitally elusive to the critic and criticism' (17). She is not simply writing on performances of Cuban music; she writes with, about and alongside of them. Her aim is to allow aspects of these performances to enter and affect the writing: rhythms, inflections, ambiances, refrains, non-lexical noises. To listen in detail means to enter into the surround of a performance, to situate one's sensing in its midst. In combining 'description, musician's accounts, theoretical passages and felt impressions to read performances closer rather than offer technical or graphical representation of notes and beats' (17), Vazquez aims to be generative rather than definitive. Listening in detail is 'a mode of engaging things that are bigger than ourselves. It offers alternative approaches to the too-muchness of events' (27).
The book's five chapters apply this methodology of listening and response to a range of subjects in the history of Cuban music. 'Performing Anthology,' the first chapter, considers the nexus of Cuban music and American jazz connecting Havana to New Orleans through a close listening of Alfred Rodríguez's 1996 album Cuba Linda. In it, Vazquez situates Cuba and Cuban music's relation to African American cultural production 'not as foreign comparatives, but as elemental parts of their aesthetics' (63). In the second chapter, Vazquez applies her mode of listening to an interview with Graciela Pérez, 'the first lady of Latin jazz,' as a way to resurface the feminist and oppositional aspects of her work and life often muted in official biography. The third chapter, 'Itinerant Outbursts,'
centres upon the infamous grunt of bandleader and 'King of Mambo' Dámaso Pérez Prado, and follows these performative outbursts on a trajectory through the Jim Crow south, to Mexico City, then California. In the next chapter, 'Visual Arrangements, Sonic Impressions,' Vazquez examines two 1960s documentary films on music in Cuba to reveal creative responses to the intensified times after the Cuban Revolution and during the Cold War. The book's final chapter, 'Cold War Kids in Concert,' traces out the implications of listening from a distance as subjects of displacement after diaspora and exile.
Listening in Detail is a necessary book for those who work within the disciplines of performance studies, musicology, sound studies, postcolonial and critical race studies. Because of its methodological framework and its unique exploration of inscription and fugitivity, the book will also be of particular use to those who research at the nexus of cultural studies and media theory.
+
PDF
Originally published in Theatre Research International.